A lot of light, air, and open space – this is how you can describe the main features of the loft style in the interior. Therefore, a room with high ceilings and panoramic windows without curtains and curtains is ideal for it.
Here are the 7 rules for the loft interior design:
Rule 1: Concept first, details later
First of all, it is important to define the concept: it can be a "marshmallow" loft in pastel colors, a brutal dark location, a retro loft with brick walls, or a techno space with plasmas and light music. Decorative plaster is often used in the interior of the loft; plain and deliberately careless is best suited. Other popular materials for decoration are metal, concrete, and wood. When decorating a loft, it is important to preserve the atmosphere of an abandoned factory with concrete walls, massive doors, and antique windows.
Wooden elements will complement and emphasize the interior of the loft. This can be wooden beams under the ceiling if it is high enough. Also, wooden cabinets and racks for accessories will perfectly fit into the interior of any loft. 
Rule 2: Loft can be for kids too
Children's lofts are characterized by a large amount of light and space, the use of pastel colors in the design of the room. The "loft" style will be preserved due to the rough finish, while the interior will become more delicate due to light colors. Bright elements should be included in the design of a children's loft: soft ottomans, multi-colored pillows on comfortable sofas.
It is better to avoid sharp corners, choose round tables so that the kids do not get hurt during active games. If space permits, you can install inflatable slides and even small trampolines indoors.
Rule 3: Choose your loft-type in advance
Designers distinguish three main types of modern lofts: 
– industrial (classic), glamorous and bohemian.
1. Industrial
This is the most brutal, "masculine" and at the same time the most popular style in the loft interior. Metal, concrete, and wood become the main materials in the design of the room, while vintage elements emphasize the free and creative atmosphere. There is little furniture in such lofts, it is practical and functional.
There are also a few accessories and jewelry – they all only emphasize the minimalism of the design. The main colors in the design of an industrial loft: gray, brown, burgundy. The prototype of this style is an old factory with brick walls and massive furniture.
2. Glamorous
The glamorous loft is characterized by a softer and lighter interior. In addition to industrial colors, pastel colors and bright elements are used, which makes it related to the French style "Provence." Floor-length mirrors in vintage frames and living plants in unusual pots are often refined decor details.
Beautiful clocks, metal forged figurines can decorate a glamorous loft. Also, the decor will be complemented by massive lamps on the ceiling or on the walls.
3. Bohemian
Bohemian style is the most comfortable interior option. Its main feature lies in the combination of the loft-style and classics. Industrial finishes are complemented by exquisite soft furnishings. These spaces often include a large bed, a comfortable sofa, or soft armchairs.
Rough walls are decorated with paintings, along with one of the walls you can put a rack with statuettes and antiques or some memorable things. Space is illuminated by vintage lamps without lampshades.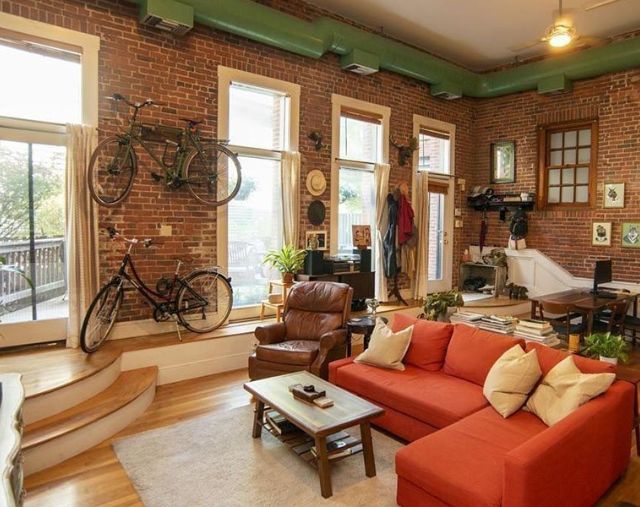 The bohemian style is reminiscent of the grunge style, for which the combination of brutality and luxury in the interior is characteristic. However, the bohemian style still strives for greater simplicity and practicality.
Rule 4: Do not clutter the space
Since the main thing in modern loft design is the feeling of spaciousness and air, there should not be too much furniture. Usually, a white or beige wooden table, a large soft sofa, simple chairs, wooden shelves with books, cabinets, and whatnots are selected for the loft interior. Furniture for a loft interior must be functional and practical.
The assortment of such furniture is available at nyfurnitureoutlets.com. It is convenient when tables can be connected to each other and divided depending on the type of event. Wooden blocks that can be used as chairs or low tables will also come in handy. In an industrial loft, furniture in basic shades will look great: white, black, beige. Designer chairs of unusual shapes and colors will coolly fit into the interior.

Using wooden or metal shelving, you can divide the space into several thematic zones. To add coziness, you can place a light or bright ottomans on the floor: orange or light green elements will look great in a black and white loft. If you decide to decorate your loft in a bohemian or glamorous style, then choose a luxurious double bed with voluminous bedspreads and pillows.
Rule 5: Lighting is key
To decorate a room in the "loft" style, spacious locations with large windows are most often chosen, since good lighting is very important. Plastic windows are painted, curtains are either not used at all, or only dense and heavy models of gray, burgundy, beige. Also, there should be many artificial light sources throughout the room. It is better to select items of the most laconic design – white or black metal lamps, chandeliers without fanciful shades, lamps of the original design.

For the most minimalistic options, light bulbs can generally be left without lampshades – this is economical and will perfectly fit into the concept of the place. Simple track and LED lights will also work.
Rule 6: Even loft likes accessorizing
Despite the brutality and restraint, the loft-style is hard to imagine without interesting interior items that become bright design accents. The rough brick or concrete walls of the loft can be decorated with paintings: portraits and landscapes will definitely not work, but abstract watercolors or black and white geometric images will look very cool.
You can also hang a photo, for example, a triptych – three paintings united by one theme. It can depict an unusual plot or plant motifs. Floor mirrors will perfectly fit into the loft interior: depending on the chosen concept, they can be in gilded vintage frames or made in a modern style, for example, make-up mirrors with light bulbs.
To decorate a loft in a retro style, you can allocate part of the space for shelving with antique car models, and decorate the space on the wall around with decorative license plates and road signs. Bicycles, motorcycles, vintage watches, and unusual design items will also help make the interior of the loft creative and memorable.
Moreover, you can also make the perfect arrangements for the cleaning accessories such as vacuum cleaners. Go for less vacuum cleaner power consumption to reduce your electricity bill.
Rule 7: Toilet is part of the design
A loft toilet is usually decorated in the same style as the main rooms. Water pipes and hoods are left open to emphasize industrialism. The space under the sinks can be decorated in an original and creative way, for example, stylized as barrels or pallets – roughly knocked together wooden boxes.
If you want to make the design lighter, decorate the space with small potted plants, wooden baskets, graceful soap dishes. Showers in a loft are usually simple and discreet – rectangular models look best. Wood and stone are perfect for wall decoration.