Caleb Love is an American college basketball player who played for the North Carolina Tar Heels at the University of North Carolina. Previously, he played high school basketball at Christian Brothers College.
However, Caleb has decided to leave North Carolina after spending three seasons on the university team. He left a note on his Instagram and Twitter profile announcing his intention to enter the transfer portal.
View this post on Instagram
The post shared on Monday, 27 March 2023, read,
I've taken some time with my family to re-evaluate what's best for me to continue to grow as a player and I've decided to enter the transfer portal to continue my journey.
Through his post, Caleb thanked his coach and the coaching staff at North Carolina. He also remembered his teammates for the quality time they had during his three seasons with the team.
It will be now interesting to see where Caleb will end up playing his senior year. After that, he could announce his eligibility for the next NBA draft.
Now, let's learn about Caleb Love wiki, parents, age, brother, high school, college, stats, height, dating, bio, and other interesting facts.
Don't Miss: Who Are Cam Thomas Parents? Is He Dating Anyone?
Caleb Love Wiki; Age, Ethnicity, Birthday, Height
Caleb Khrisopher Love was born in 2001 in St. Louis, Missouri, United States. He is now 21 years of age.
With American nationality, Caleb has African-American ethnicity. He celebrates his birthday on the 27th of September every year.
Caleb attended Christian Brothers College High School in St. Louis, Missouri for his high school education. He played high school basketball there under the coach, Justin Tatum.
Eventually, Caleb enrolled at the University of North Carolina in 2020. He then started playing college basketball for the North Carolina Tar Heels.
Caleb stands tall at a height of 6 feet and 4 inches (1.93 meters). Likewise, he weighs around 200 pounds (91 kg).
Caleb Love Family Life: His Parents and Siblings
Talking about his family, Caleb was born to parents of an African background. He was raised by his folks, Dennis Love and Alecia Thompson.
Both of Caleb's parents are very proud of their son for what he has achieved so far. They haven't missed a single game Caleb has played.
Speaking in an interview, his father, Dennis said,
This has been a dream come true for him. He's worked extremely hard.
Likewise, his mother, Alecia said,
Our entire being has been about raising him to be the best that he could possibly be.
Caleb is raised as a single child by his parents as he doesn't have any siblings.
Caleb Love High School Career
Thanks to his passion for basketball from a young age, Caleb attended Christina Brothers College High School in his hometown to play high school basketball.
In his junior season, Caleb averaged 18.9 points and 4.3 rebounds per game as a. The 21-year-old point guard led his school to the Class 5 runner-up to Rock Bridge High School.
Caleb received a number of honors during his high school career (Source: Caleb's Twitter)
Eventually, Caleb scored a career-high 42 points against East St. Louis High School as a senior. In his senior season, he averaged 26.3 points, 6.5 rebounds, 3.1 assists, and 2.6 steals per game.
In his high school career, Caleb was named Mr. Show-Me Basketball and Gatorade Player of the Year in Missouri. Likewise, he was named McDonald's All-American.
Caleb Love College Stats
Caleb joined the University of North Carolina to play college basketball in 2020. He was part of the college team until 27 March 2023.
In his freshman season, Caleb averaged 10.5 points, 2.6 rebounds, and 3.6 assists. He was also named to the ACC All-Freshman Team after averaging 10.5 points and 3.5 assists per game.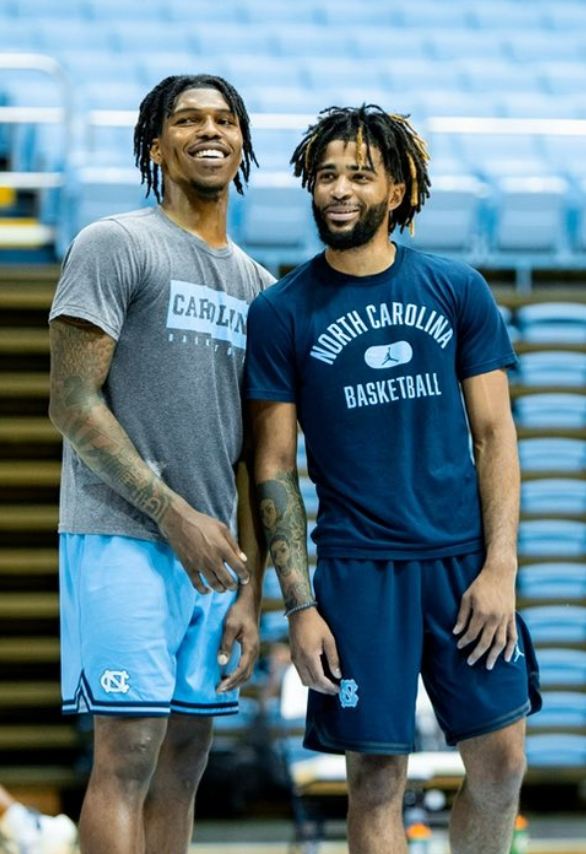 Caleb played college basketball at North Carolina for three seasons from 2020 to 2023 (Source: Caleb's Twitter)
Caleb had another great college season in his sophomore year. He averaged 15.9 points, 3.4 rebounds, and 3.6 assists per game at the end of the season.
Caleb then decided to leave North Carolina and enter the transfer portal following his junior season.
You May Like: Meet Andrew Nembhard Brother and Parents; How Much Is His NBA Salary?
Is Caleb Love Dating Anyone?
Caleb is leading a single life as of now. The 21-year-old college basketball player is not dating anyone. In fact, he prefers to keep his relationship life confined from prying eyes.
Caleb is active on Instagram where he rarely shares any posts. He has over 323K followers.