Brian Alzua is a biocompatibility scientist from Minneapolis, Minnesota, United States. He will appear as a new contestant on the 39th season of America's favorite quiz game show, Jeopardy!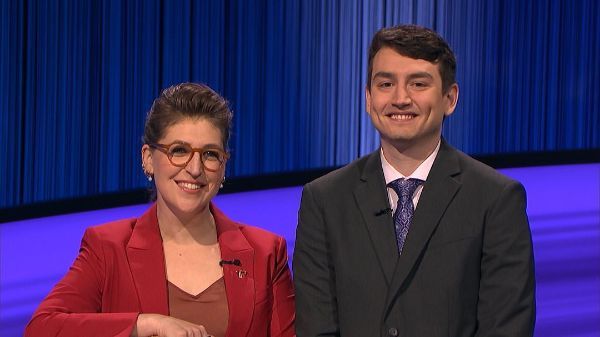 Brian Alzua (pictured with Jeopardy host Mayim Bialik) is excited to appear on the trivia game show Jeopardy. (Source: Brian's Instagram)
On the new Jeopardy episode, he will face a previous episode champion Hannah Wilson, a data scientist from Chicago, Illinois, and Ashwin Phadnis, an attorney from Hillsdale, New Jersey.
Hannah is a new two-day champion with a total score of $71,000. She defeated the previous three-day champion Kevin Belle on her debut on Wednesday, 3rd May 2023. Moreover, she also won the Friday episode with a total score of $45,200.
1 Across. She's a Jeopardy! Champion and a crossword queen:
◻️◻️◻️◻️◻️◻️◻️◻️◻️◻️◻️◻️ pic.twitter.com/78vDKaXJqn

— Jeopardy! (@Jeopardy) May 4, 2023

Alzua is thrilled to be part of the popular quiz game show. He revealed his excitement through his Instagram post where he stated,
I'm so excited to share that I will be on JEOPARDY coming straight to your living room on MAY 5!! Be sure to shout anything I didn't know the answer to at your screen for maximum viewing enjoyment
On the other hand, he is expected to match the success of Minneapolis meteorologist Eric Ahasic, who won six games in a row back in June 2022 and competed in two shows of the Tournament of Champions in November.
So, will Brian be able to defeat the existing champion on the Jeopardy? He will make his debut on the show on Friday, 5 May 2023.
Get to know Jeopardy contestant Brian Alzua's wiki, age, education, job, family, dating status and other details here.
Another Jeopardy Contestant: Who Is Dan Czekalski From Jeopardy? His Wiki and Family Life
Brian Alzua Age & Wiki: Where Is He From?
Alzua is 30 years old now. He was born Brian Raymond Alzua in the year 1992 and celebrates his birthday on the 16th of June.
As per wiki, he hails from New Providence, New Jersey, and spent his early life with his family there. He is American by nationality and belongs to the Caucasian ethnicity.
View this post on Instagram

Brian loves to spend moments with his family members as evinced by his Instagram, posts. He is close to his grandmother and has shared numerous pictures with her on his Instagram. Besides, he enjoys exploring various locations with his friends and family.
Brian Alzua Educational Background
Alzua pursued his high school education in his hometown, graduating in 2010. He was then enrolled at the University of Michigan where he studied biochemistry.
In 2014, he obtained his bachelor's degree from there and rejoined to pursue his master's degree. He graduated with a master's degree in Biological Chemistry in 2016.
What Is Brian Alzua's Job?
Alzua is a biocompatibility scientist by profession. As per his Linkedin, now serves as a study director at WuXi AppTec, a global pharmaceutical, biopharmaceutical, and medical device company.
Prior to that, he was an Associate Technical Scientist at American Preclinical Services, a research company that offers biocompatibility and surgical research services. He joined a company as a laboratory technician in 2016.
Minneapolis scientist Brian Alzua to compete on Friday's episode of 'Jeopardy!' https://t.co/JMjHM8sTmN pic.twitter.com/cYMact6I7W

— Pioneer Press (@PioneerPress) May 5, 2023
Is Brian Alzua Dating Anyone?
Alzua seems to be a gay man. He is enjoying a relationship with a handsome guy as per his Instagram posts.
View this post on Instagram

The 30-year-old shared some pictures of enjoying moments with his boyfriend. He and his boyfriend seem to be together for a couple of years.
You May Find Interesting: Is Paul Guelpa From Jeopardy Married? His Wiki and Family Life
Nevertheless, Brian has not revealed the identity of his love partner.