Joe Pyfer is an American professional mixed martial artist who has signed with the Ultimate Fighting Championship (UFC). Joe made his MMA debut back in 2018.
Recently on Saturday, 8 April 2023, Joe registered his another career victory at UFC 287. He was able to knock out the 35-year-old American mixed martial artist, Gerald Meerschaert.
Joe knocked out his opponent in the first round of the UFC bout on 8 April 2023 (Source: Joe's Instagram)
In fact, Joe managed a win over the 50-fight veteran, Gerald in the first round of the bout itself. He is now 2-0 in the UFC since being signed from the Contender Series.
Joe was able to set up his power shorts from the beginning of the match. He turned up the heat just two minutes into the fight making it difficult for Gerald to return the assault.
After an intense beating, Joe sent Gerald to the canvas where the referee gave him enough time to respond. However, Gerald was left unconscious and Joe was announced a dominant winner.
View this post on Instagram
Joe's last UFC fight was against Alen Amedovski on 18 September 2022. He registered a first-round knockout victory in that game as well.
Now, let's learn about Joe Pyfer wife, married, Wikipedia, age, height, next fight, ethnicity, parents, bio, UFC, net worth, and other interesting facts.
More From UFC: UFC Mana Martinez Wiki: Inside His Family & Personal Life
Is Joe Pyfer Married? Who Is His Wife?
Joe is not married to this date! As a result, there is no point in him having a wife or partner at the moment.
Likewise, there is no any detail regarding Joe's possible girlfriend on the internet. The UFC star seems to be leading a single life and he prefers to stay away from dating affairs.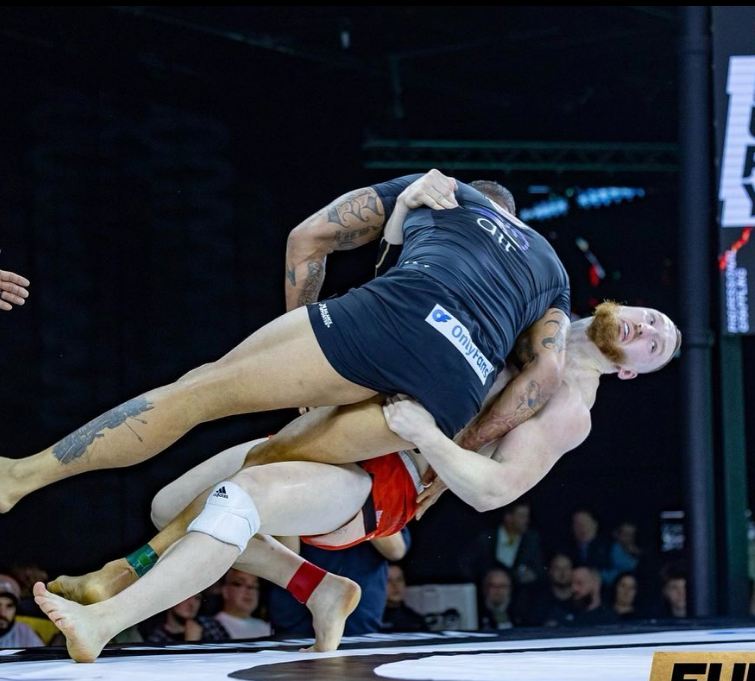 Joe is single as of now and he doesn't have wife (Source: Joe's Instagram)
Joe is active on Instagram where he often shares posts related to his professional fights. He has over 29.4K followers on his Instagram account.
Back in 2022, Joe gave away some harsh details regarding his past life. In an interview with The MMA Hour on 19 September 2022, Joe mentioned he overcame his abusive past and suicidal thoughts. He said,
I got built from breaking my arm, honestly. I hit the slumps, man. I hit a depression, like temporary suicide s***, you know, feeling sorry for myself. I allowed what I thought was a failure to really break me as a person and like, 'Maybe people are right, I'm not meant to do this.' I don't know. I used to ask myself these questions all the time, like, 'Why me? Why me? Why me?' The self pity, that's really what it is, and it was.
Joe always took his past setback as a motivation to do something in his professional career. When he joined UFC, he had overcome his past.
Joe Pyfer Wikipedia; Age, Parents, Height
The MMA fighter was born Joe Pyfer on 17 September 1996 in Vineland, United States. Joe is also known by his nickname Bodybagz. He is now 26 years of age.
Talking about his family, Joe had to deal with abusive parents in the past. His father, who was a fighter, abused him verbally and physically from the time when Joe was just one year old.
Likewise, Joe had a toxic and dysfunctional relationship with his mother as well. Talking in an interview with The MMA Hour, Joe revealed,
I'm not going go into detail of that to that extent, but basically I shoved him, ran out of the house, never went back. And I've been discredited from that moment by him ever since then.
Talking about his father, he said,
Laughed at, made fun of, told I was going to be a f****** loser my entire life, man. And it's very common, there's a lot of gruesome things that were said.
Joe further added,
When it comes from your mother, it hurts a lot more than your father. I don't know why. I guess it's the emotions that you're supposed to have with your mom. And yeah, my mom despised me because I was spitting image of my dad. We were very dysfunctional, very verbally abusive, very put down type people. … They're not good people.
Joe couldn't complete high school because of his abusive parents. He had started jiu-jitsu at four-and-a-half years old.
The MMA fighter has a tall height of 6 feet and 2 inches. Besides, he weighs around 185 pounds. With American nationality, Joe has white ethnicity.
You May Like: Nico Ali Walsh Starts Boxing Career; Can He Keep His Family's Legacy?
Joe Pyfer UFC Career; How Much Is His Net Worth?
Joe has been practicing mixed martial arts for more than 22 years now. As of now, he has played for different banners like UFC, CFFC, ROC, AOW, and CES.
The 26-year-old won his debut MMA fight on 18 May 2018 against Steven Covington. So far, he has registered 11 wins and just two losses from his 13 fights.
Joe manages healthy net worth from his MMA career (Source: Joe's Instagram)
Joe made his UFC debut on 18 September 2022 where he won over Alen Amedovski by first-round knockout. He repeated the same recently on 8 April 2023 in a bout against Gerald Meerschaert,
As a UFC fighter, Joe manages an estimated net worth of $50,000.