Max Duggan is an American football quarterback who will be playing for the Los Angeles Chargers of the National Football League (NFL). Previously, Max played college football at Texas Christian University.
Max recently made it into NFL via the 2023 NFL Draft. He was selected by the Los Angeles Chargers as the 239th pick in the seventh round of the draft.
Max was drafted by the Los Angeles Chargers in the 2023 NFL Draft (Source: Pro Football Talk's Twitter)
With Saturday's draft, Max will now join his two TCU teammates, Quentin Johnson and Derius Davis at the Chargers. Both wide receivers were also drafted by the Chargers on Saturday's draft.
Max enjoyed a sensational career as a collegiate player at TCU. He won several national awards there whole leading his college team to the 2023 College Football Playoff National Championship.
For instance, Max was honored with the Davey O'Brien Award and Johnny Unitas Golden Arm Award in 2022. He also won the Earl Campbell Tyler Rose Award and Big 12 Offensive Player of the Year title in 2022.
Now, let's learn about Max Duggan wiki, parents, siblings, birthday, age, height, weight, draft, NFL, stats, dating, girlfriend, ethnicity, and other interesting facts.
Another NFL Talent: Justin Fields Becomes New NFL Addition; Who Drafted Him?
Max Duggan Wiki: Age, Birthday, Height, Weight
Maxwell Duggan was born in Council Bluffs, Iowa, United States in the year 2001. He is now 22 years of age and he blows out his birthday candles on the 12th of March every year.
With American nationality, Max has white ethnicity. Likewise, his zodiac sign is Pisces.
Max attended Lewis High School where he played football, basketball, baseball, and also ran track. He later enrolled at Texas Christian University (TCU).
Standing tall at 6 feet and 2 inches (1.88 meters), Max weighs around 210 pounds (95 kg).
Who Are Max Duggan Parents?
Max is the youngest of three children of his parents, Jim Duggan and Debra Duggan. He has two elder siblings who were adopted by his parents from South Korea.
Max's parents adopted his two elder siblings from South Korea (Source: Sam Duggan's Instagram)
Talking about his parents, Max's father, Jim played quarterback at the University of South Dakota. Likewise, he coached Max at Lewis Central Community School in Council Bluffs, Iowa.
Likewise, Max's mother, Debra was a hurdler in college at the University of South Dakota. As per her LinkedIn bio, Debra now serves as a Senior HR Specialist at Mutual of Omaha. She took the position back in October 2017.
Besides that, Debra also works at American National Bank since June 2004. She previously worked at First National Bank of Omaha as an Employment Manager from 1987 to 2002.
Debra completed her education at the University of South Dakota.
Max Duggan Family Life: Meet His Siblings
Max has two adopted siblings who are from South Korea. His parents struggled to get pregnant after getting married and later decided to adopt a son named Sam Duggan and a daughter named Megan Duggan.
Max's elder brother Sam graduated from the University of Denver (Source: Max's Instagram)
Both of Max's elder siblings are in their 20s. Sam currently works as a Sales Consultant. He graduated from the University of Denver in 2018.
On top of that, Max's sister, Megan graduated from Saint Albert High School in 2016. Following that, she studied at Iowa Western Community College.
Max Duggan High School and College Stats
Max showed some promising signs while in high school. As a senior, he passed for 2,130 yards and 24 touchdowns and was also named the 2018 Iowa Gatorade High School Player of the Year.
Eventually, Max moved to TCU to play college football for the TCU Horned Frogs football team in 2019. During his debut season, Max recorded 2,077 yards and 15 touchdowns from 12 games.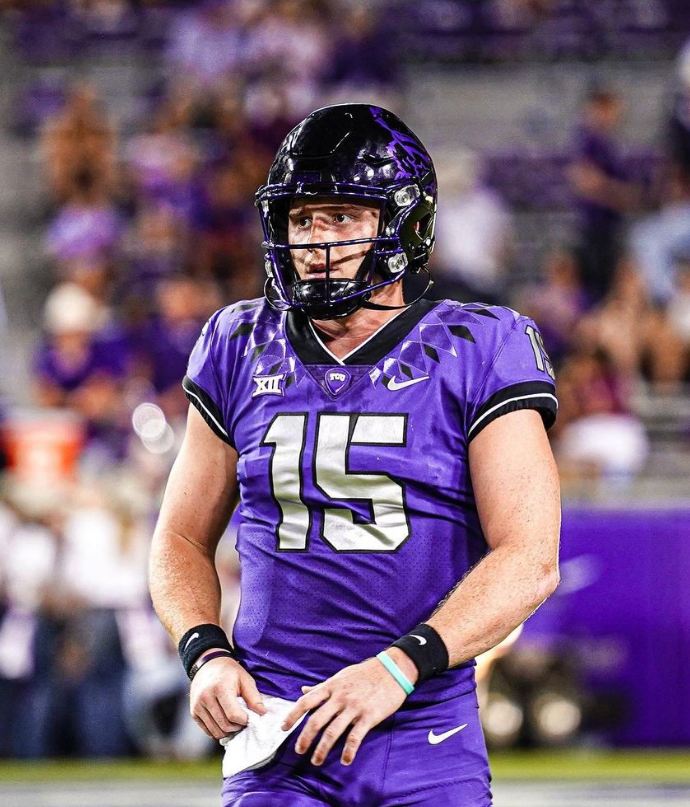 Max registred impressive stats during his four college seasons with TCU (Source: Max's Instagram)
Max had a terrific 2022 season as he recorded 3,698 passing yards with 32 touchdowns from 15 games. During his college career, Max registered a total of 9,618 passing yards with 73 touchdowns from 47 games across four seasons.
Now, Max will be making his NFL debut with the Los Angeles Chargers.
Interesting For You: Is Garrett Wilson Up For NFL Draft? His Ohio State Stats, Family & Dating Life
Who Is Max Duggan Dating?
Max is currently dating his girlfriend, McKenna Howard. The pair kicked off their romance back in 2022.
Max's girlfriend, McKenna is a former cheerleader at Fort Christian School. She is a native of Gordon and she completed her high school education at FWCS. She is now 21 years of age.
Max has been dating his girlfriend McKenna since 2022 (Source: Max's Instagram)
The couple met each other while attending Texas Christian School. McKenna has been studying Speech and Language Pathology there since 2019. Besides, she is also a member of TCU Zeta Tau Alpha.
Max and his girlfriend often mention each other in their respective Instagram profiles. It was McKenna who made their relationship Instagram official back on 19 November 2022.