Jonathan Conricus is the Lieutenant Colonel of the Israel Defense Forces. He is known for his work as the head of the International Media Branch in the IDF Spokesperson's Unit.
There, he is responsible for the IDF's international traditional and social media operations, public affairs, and public diplomacy.
Conricus has been providing updates regarding the ongoing battles between Israeli security forces and Hamas including terrorists inside Gaza. He has been appearing in prominent news media including CNN, BBC News, and ABC News Live.
Apalled by the double standards in reporting: breaking coverage on @BBCWorld automatically blames Israel for an explosion at a Gaza hospital, based solely on what terrorist Hamas claims!
And when we investigate and refute the claims, evidence must be delivered. I have no issue… pic.twitter.com/EJTOLFKmk7

— Jonathan Conricus (@jconricus) October 18, 2023

In over 20 years of military service, he has held a diverse array of positions in infantry, international relations, and military diplomacy. He is the first IDF officer to be seconded to the United Nations, serving in the UN Peacekeeping Operations Office of Military Affairs in New York.
During his tenure, he served as the head of the IDF Liaison Unit to UN peacekeeping efforts in Golan and Lebanon. Similarly, he served as an assessment Officer in the Office of Military Affairs of the United Nations Department of Peacekeeping Operations (DPKO) in New York, USA.
Besides, he owns Conricus Communications which he started in 2022. He is responsible for the interaction with various stakeholders through internal and external communications.
So, is Jonathan Conricus is a married man? Learn about his Wikipedia, age, family, education, marital status, and personal life details here.
Also Read: Who Is Richard Hecht? Explore His Wikipedia and Family Life
Jonathan Conricus Wikipedia, Age & Family Life
Jonathan Conricus seems to be in his 40s now. He was born somewhere in the 1970s but there are no details about his actual date of birth.
As per wiki, his birthplace is Jerusalem, Israel but grew up in Sweden in its southern city Malmo. His parents decided to move to Israel in search of adventure in the 1990s.
Conricus is the son of an Israeli mother and a Swedish father. His mother is Jewish and he practices Judaism. Additionally, he says that his father does not practice religion.
The Lieutenant Colonel is fluent in Swedish, English, and Hebrew languages. Besides, he has knowledge of Norwegian, Danish, Arabic, and German languages.
Jonathan Conricus Education Details
Jonathan Conricus pursued his school education in Swedish where he spent his early life. Afterward, he went to The Hebrew University of Jerusalem and graduated Cum Laude with a Bachelor's Degree in Middle Eastern and Military Studies in 2003.
Additionally, he volunteers his time and expertise to enhance leadership and entrepreneurship skills among high school students.
Jonathan Conricus Wife: Is He A Married Man?
Jonathan Conricus is a married man and a father at home. He has been enjoying nearly two decades of matrimony with his wife Revital Cohen Conricus.
The couple tied the wedding knot on 11 March 2005 and has been inseparable since then. His wife is an international teacher of personal development, and the author of the book, Finding the Soulful Love.
Revital is a native of Petah Tikwah, Hamerkaz, Israel, and graduated from Ahad HaAm High School and The Open University. Moreover, she serves as the theta healing practitioner at a clinic named Revital Cohen Conricus.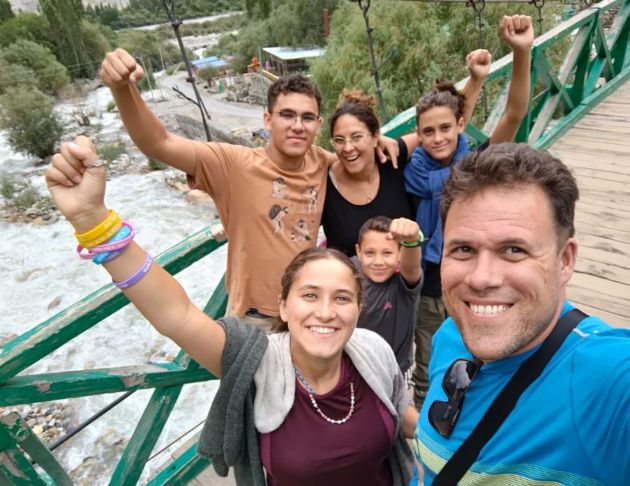 Jonathan Conricus and his wife Revital have two sons and a daughter from their marital relationship. (Source: Revital's Facebook)
Together, they are the parents of four children. They have two sons and two daughters ranging in age from 10 to 17.
Jonathan often goes on a family trip every year with his wife and children. The Conricus family traveled to India back in 2022.
Do Not Miss: Richard McSpadden Wikipedia: What Was the Cause of His Death?