American professional tennis player Ashley Lahey competed in both singles and doubles events. She ranks world no. 362 in the WTA singles ranking.
Similarly, she achieved a career-high singles ranking of no. 326 on 3 July 2023. She ranks world no. 184 in the WTA doubles ranking and has a career-high ranking of no. 178, achieved on 14 August 2023.
View this post on Instagram

Lahey has won one singles and four doubles titles at the ITF Circuit. She won her first and only singles title at the ITF Sumter in June 2017 where she defeated fellow American Francesca Di Lorenzo.
Likewise, her first major ITF title was at the 2022 Tyler Pro Challenge in the doubles events in October 2022. There, she and her Russian partner Maria Kozyreva defeated American Jaeda Daniel and English Nell Miller in the final.
Collegiately, she played at Pepperdine University from 2016 to 2020. As a sophomore, she reached the 2018 NCAA Singles Championship and finished as a runner-up. Likewise, she won the 2019 Oracle/ITA Masters, the 2019 Women's Collegiate Invitational, and the 2019 ITA All-American Championships in her senior year.
View this post on Instagram

Ashley had a remarkable junior career, reaching a career-best ITF Junior Ranking of no. 58 on 26 September 2016. She won titles in the 35th Woody Hunt South Bay Junior Closed Tournament in both the girls' 18 singles and doubles categories in 2016.
Furthermore, she reached the semifinals of the Wichita Falls ITF Grade 4 and the quarterfinals of the Tulsa ITF Grade 1 in 2015. She also reached the finals of the USTA Easter Bowl, Hard Courts, and two National Level 2 Tournaments in 2014.
Learn about tennis player Ashley Lahey's wiki, age, education, parents, family, boyfriend, earnings, and net worth details here.
Another Tennis Player: Anna Danilina Husband Or Boyfriend: Is The Tennis Player Married Now?
Ashley Lahey Wiki & Age: Where Is She From?
Lahey is 23 years old now, born on 26 October 1999. She hails from Hawthorne, a city in California, United States.
The player attended Mira Costa High School in Manhattan Beach, California, and later transferred to Connections Academy Capistrano in San Juan Capistrano. There, she graduated in 2016.
Ashley then went to Pepperdine University as a student-athlete. She graduated with a Bachelor of Science in Sports Medicine in 2020.
Ashley Lahey in a throwback picture of playing tennis as a child. (Source: Ashley's Instagram)
Apart from tennis, she played waterskiing, skiing, and basketball while growing up. She regards Novak Djokovic and Andy Murray as her favorite athletes.
Off the court, she enjoys hiking and being outdoors and among nature. Her favorite movies are Invictus and The Untouchables and her favorite TV show is Friends. Additionally, she prefers reading books and her favorite one is Phantom Tollbooth by Norton Juster.
Ashley Lahey Parents: Her Family Life Explored
Lahey is the daughter of Corning Lahey and Pauline Lahey. Her parents are no longer together and divorced after several years of marriage.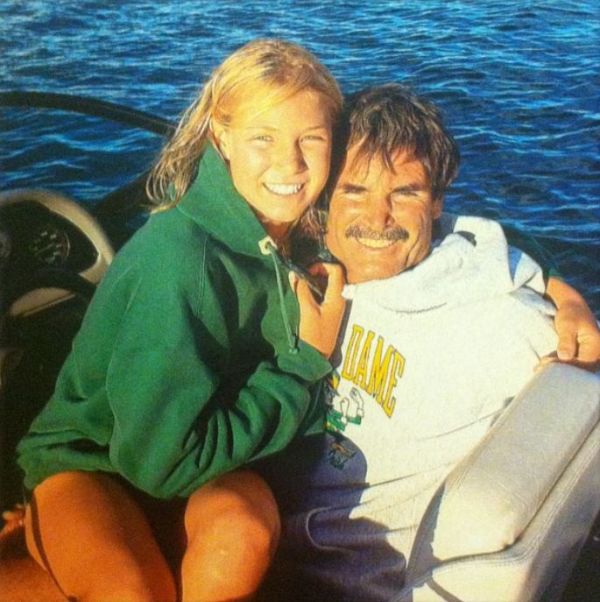 Ashley Lahey in a childhood picture with her father Corning. (Source: Ashley's Instagram)
Pauline is a project management professional with years of experience in the related field. She now serves as a Project Planner at Scitec Science and Technology. Additionally, she graduated from Durban University of Technology with a degree in Hotel Management.
Ashley is the youngest of three children in the family and has a brother named Michael Lahey and a sister named Kristen Lahey. Kristen was on a swimming team at the University of Southern California in Los Angeles.
View this post on Instagram

Moreover, her brother Michael is a data analyst who works at data companies CrunchTime! and Zenput. He earned a bachelor's degree in Biochemistry from the University of California, San Diego in 2007.
Meet Ashley Lahey's Boyfriend
Lahey is off the market now. She has been enjoying a love life with her boyfriend Treeton Allison for several years.
Treeton is a mechanical engineer who manages operations at San Mateo Midstream. He graduated from Pepperdine University in 2019 and later earned a Masters in Mechanical Engineering Design from Washington University.
Ashley Lahey and Treeton began their relationship in 2017. (Source: Ashley's Instagram)
Ashley and her boyfriend have been together for more than six years. They began their relationship after meeting in college in 2017. Additionally, Treeton was a track & field athlete at Pepperdine University.
How Much Is Ashley Lahey's Net Worth?
Lahey has amassed an exceptional amount of net worth from her tennis career. She makes remarkable earnings through prize money from tennis tournaments.
At Last: Kristina Dmitruk Wiki: Inside The Tennis Player's Family & Personal Life
As of now, she enjoys an earnings of $63,577 throughout her career. Moreover, she earned a prize money of $17,460 in 2023.