Kenny Pickett is an American football quarterback who plays in the National Football League (NFL) for the Pittsburgh Steelers. Kenny was picked by the Steelers in the first round of the 2022 NFL Draft.
Prior to joining NFL, Kenny enjoyed a compelling college career with the University of Pittsburgh. He played for the Pittsburgh Panthers from 2017 to 2021.
During these years, Kenny got his hand on a number of awards and accolades. He won the Johnny Unitas Golden Arm Award in 2021. Likewise, the player was awarded ACC Player of the Year in 2021 and ACC Male Athlete of the Year in 2022.
Kenny was also named the ACC Offensive Player of the Year in 2021 and awarded the Senior CLASS Award in 2021. He was part of the First-team All-American and First-team All-ACC in the same year.
Learn about Kenny Pickett wife, age, father, college stats, high school, draft, parents, height, and facts.
See Also: Michael Carter Dating and Family Life; Explore His Stats, NFL Draft, Salary and Facts
Is Kenny Pickett Married? Who Is His Wife?
Kenny is yet to be married. However, he already has someone who looks set to be his wife in less than a year.
Kenny is dating a girl named Amy Paternoster. Amy graduated from Princeton University in May 2022. She played football there till her retirement in December 2021.
Kenny is set to get married to his girlfriend Amy Paternoster in 2023 (Source: Instagram)
The two have been together for quite some time now. After dating for a while, Kenny and Amy got engaged on 24 January 2022. Later on 2 August 2022, Kenny revealed through his Instagram post that the two are going to get married next year on 24 June 2023.
Kenny Pickett Wiki; Age, Father, Height
Kenny Shane Pickett was born on 6 June 1998 in Ocean Township, New Jersey, the United States. He is now 24 years of age. With American nationality, Kenny holds white ethnicity.
Talking about his family, Kenny was raised by his sports-loving parents, Ken Pickett and Kasey Pickett. His father, Ken, was an All-American linebacker at Shippensburg University. Besides, Ken is also a member of the school's Athletic Hall of Fame.
Similarly, Kenny's mother, Kasey played soccer at Kutztown University. He also has a sister named Alex Pickett who played soccer at East Stroudsburg University.
Kenny pictured with his sister Alex Pickett (Source: Instagram)
Kenny attended Ocean Township High School for his high school education. He earned his bachelor's degree in marketing. Currently, Kenny is enrolled in Pitt's Katz Graduate School of Business.
The quarterback has a tall height of 6 feet and 3 inches (1.91 meters).
Kenny High School and College Stats
During his high school career with Ocean Township, Kenny passed for 4,670 yards with 43 touchdowns and rushed for 873 yards with 17 touchdowns. He then committed to play college football at the University of Pittsburgh in 2017.
In his freshman season, Kenny completed 39 of 66 passes for 509 yards with one touchdown and one interception. In the 2018 season, he played all 14 games and managed 180 of 310 passes for 1,969 yards with 12 touchdowns and six interceptions.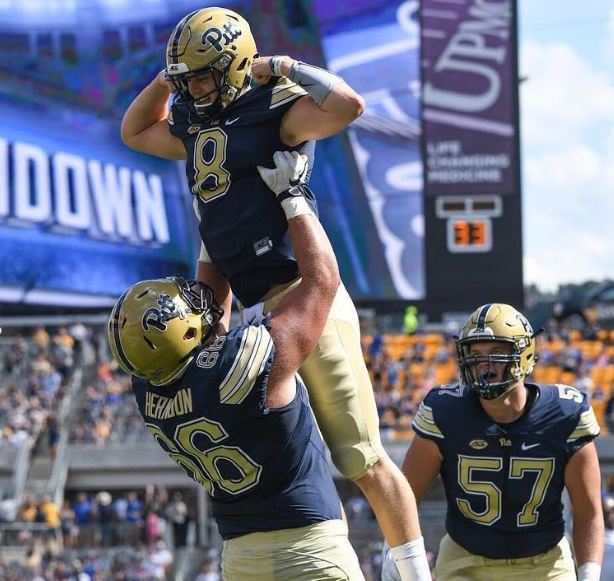 Kenny played college football at the University of Pittsburgh (Source: Instagram)
Kenny featured in 52 games over the course of 5 years at the University of Pittsburgh. During the run, he completed 1,045 passes for 12,303 yards with 81 touchdowns and 32 interceptions. Likewise, he rushed for 801 yards with 20 touchdowns.
You May Like: Rachaad White NFL Draft, Age, Salary, and Family Life; Is He Married?
Kenny NFL Draft, Contract, and Salary
Coming with a solid college career, Kenny was selected by the Pittsburgh Steelers as the 20th overall pick in the first round of the 2022 NFL Draft. Eventually, he penned a four-year contract worth $14,067,905 with the Steelers.
His deal includes $7,411,204 signing bonus, $7,411,204 guaranteed, and an average annual salary of $3,516,976. Kenny will earn a base salary of $705,000 and a signing bonus of $7,411,204 in 2022.
Kenny was picked by the Pittsburgh Steelers in the 2022 NFL Draft (Source: Instagram)
Kenny made his professional NFL debut in the Week 4 game against the New York jets. So far, he has completed 55 passes for 514 yards with one touchdown and four interceptions in three games for the Steelers.